Press Release
---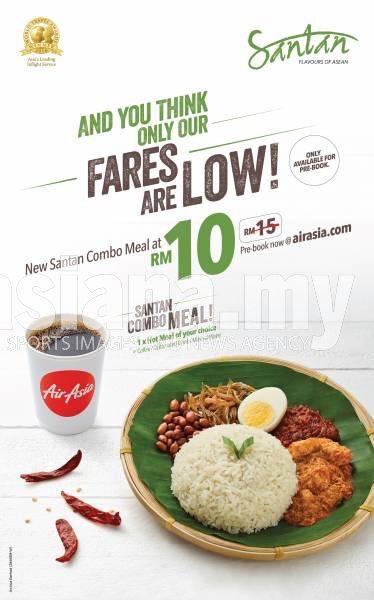 ---
ASIANA-00073
Press Release
Uploaded by
Kamarul Akhir
15 Nov, 2016 16:20
Copyright Notice:
2023 All Sports Images And News Agency
Credit:
Asiana.my
---
Captions:
AirAsia recently launched its latest 'SANTAN combo meal', an array of tantalizing hot meals with complimentary drinks available for pre-book with reduced prices from as low as RM10 on AirAsia Berhad (AK) flights, and from RM15 for AirAsia X Berhad (D7) flights. Guests who pre-book the SANTAN combo meals will definitely get greater value for their money as they now have the option to choose from a selection of refreshing carbonated drinks, mineral water and coffee*. Spencer Lee, Head of Commercial of AirAsia Berhad said, "We are thrilled to introduce a lower price of just RM10 for our latest SANTAN Combo Meal, providing our guests with greater value but the same high quality in the food we serve, as well as our in-flight service. Our guests will be happy to know that the new price offers savings of up to RM5 off the in-flight price, and when they pre-book their meals online, not only do they enjoy discounted prices as opposed to purchasing their meals on-board; they also have a wider selection of meals with 15 choices available as well as priority in being served first." Among the new items for the SANTAN Combo Meals would be the festive Christmas treat of Southwest Stuffed Chicken Meal on AirAsia Berhad (AK) flights for RM10. This hearty meal is made with succulent roasted chicken breast stuffed with capsicum and onions, and served with special jalapeno cream sauce on a bed of fluffy roasted potatoes. While those travelling on AirAsia X Berhad (D7) flights will be able to pre-book Grandma's Chicken Pie Meal as part of the new 'Combo Meal' for RM15, a luscious meal of juicy minced chicken, baked with a layer of creamy mashed potatoes and complemented with broccoli and carrots. The SANTAN Combo Meal has a pre-book selection of 15 meals ranging from local Asean delights to international cuisines. Hot meals such as Nasi Dagang with Chicken Curry, Pak Nasser's Nasi Lemak, Ashok's Butter Masala Chicken Biryani and many more are available for p
Keywords:
Press Releases,Air Asia ,
Size:
2,293x3,672 px - 100 dpi - 1.05 MB
Make:

All the images seen on this site are copyright All Sports Images And News Agency @ Asiana.my.
All rights reserved. No images may be reproduced without prior permission.